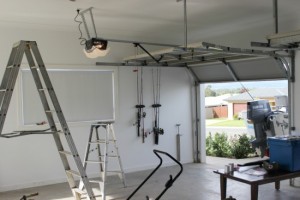 Merlin automatic garage door opener have dominated the garage door industry for over 20 years with a proven reputation for quality, value and reliability. Merlin Chamberlain specialises in the manufacturer of the quality garage door and electric gate openers.
Keep in mind these great things about the Merlin range of garage door openers:
– Longest warranty on the market (most models come with a 7 year unlimited warranty)
– Most reliable brand and not the most expensive, Merlin is the brand we know we won't be coming back to repair anytime soon
– Merlin garage door remotes and spare parts are readily available locally and quickly, avoid waiting weeks for parts to come from overseas or products becoming obsolete.
Did you know that Merlin have recently upgraded their warranties on their premium products, roller door openers the MR850EVO and the MR850EVO BBU from 5 years to 7 years? Their sectional garage door opener warranties were also upgraded, the Merlin Tiltmaster and Merlin Whisper Drive from 5 years to 7 years. This was all as a result of great reliability, performance and low volume of warranty claims on the whole range of Merlin Chamberlain garage door openers. Just another indication of quality from the Merlin brand.
– Merlin's MR850EVO is their premium roller door opener. Capable of opening and closing domestic and commercial roller doors up to 18m2, the Silent Drive operation is loved by our customers. With 2 key ring size remotes and a wireless wall button included as standard, you really get great value for money.
– The latest Merlin Tiltmaster is our first choice when it comes to sectional or tilt garage door openers. With the proven performance and reliability, quiet belt drive, 7 years warranty, industry leading power and LED courtesy lights; we rely on the best, which ensures our customers get the best.
Rely on the Merlin range of garage door openers to open and close your new or existing roller and sectional garage doors in Sydney.
Merlin's industry leading warranties, 20+ years in the industry and fantastic prices ensure that our customers know that their garage doors will operate every time.
For more information about Merlin Garage Door openers visit our website.