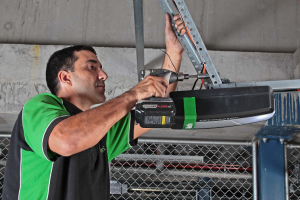 Garage door motors in Sydney come in different shapes and sizes, many of them are under-performers. The new Merlin garage door motors are well equipped to drive even the largest of doors. The features include soft start, soft finish operation and a large range of the remote controls. The technology used in these remote controls has a three signal frequency to stop any interference from an occurring.
The powerful DC motors are much quieter than the old-style AC motors that run on a chain system. These new DC motors on sectional doors run with a steel reinforced belt system, perfect for fixing to the ceiling as they do not vibrate.
The new Merlin garage door motors for roller doors also have the soft start and finish function this is quite useful as it helps to prevent the door from unravelling at the top, commonly occurring problem.
If you are tired of getting out of your car in the rain to manually open your garage door, you should consider having an automatic garage door installed.
Imagine sitting in your warm car, clicking the button and emptying your groceries without getting one drop of rain on you. Automatic Garage Solutions can solve this problem for you. Whether you have a roller, sectional or tilt door, we have motors that will suit your needs.
Merlin motors are famous for its excellent quality and most of the models come with 5-7 years warranty. Any warranty issues that might occur can be promptly repaired by Automatic Garage Solutions.
http://automaticgaragesolutions.com.au/garage-motor-replacement-and-garage-door-services/